Testimonials
Training & Program Reviews
---
Just visit an one of our packages to see the reviews!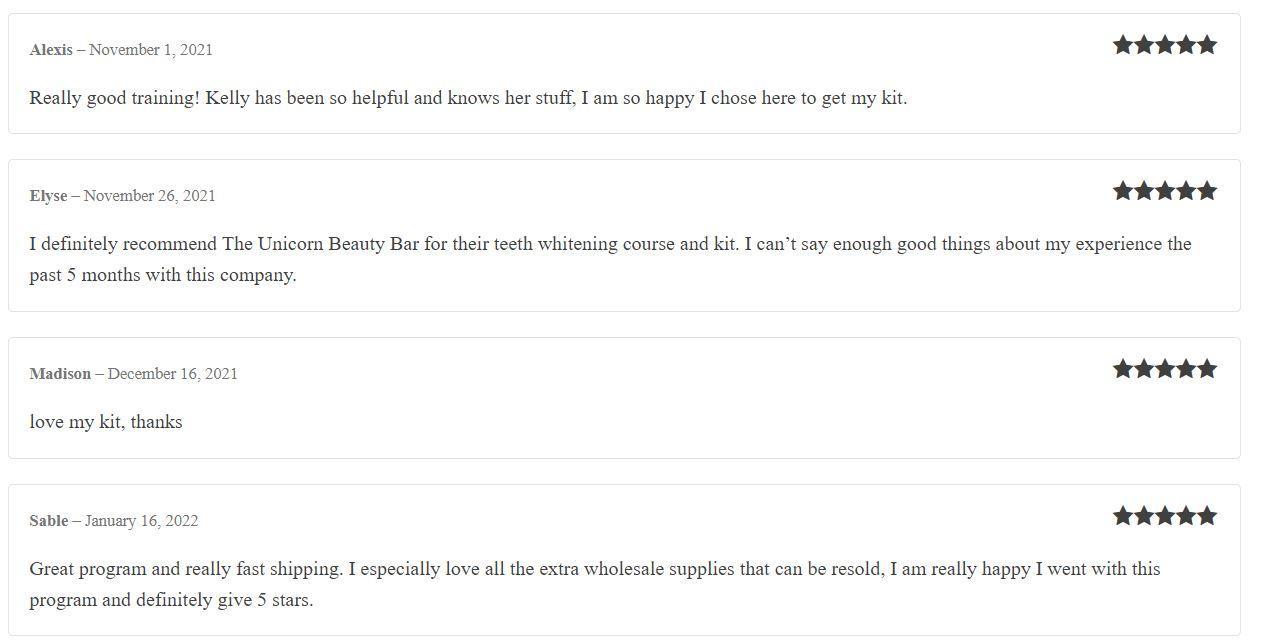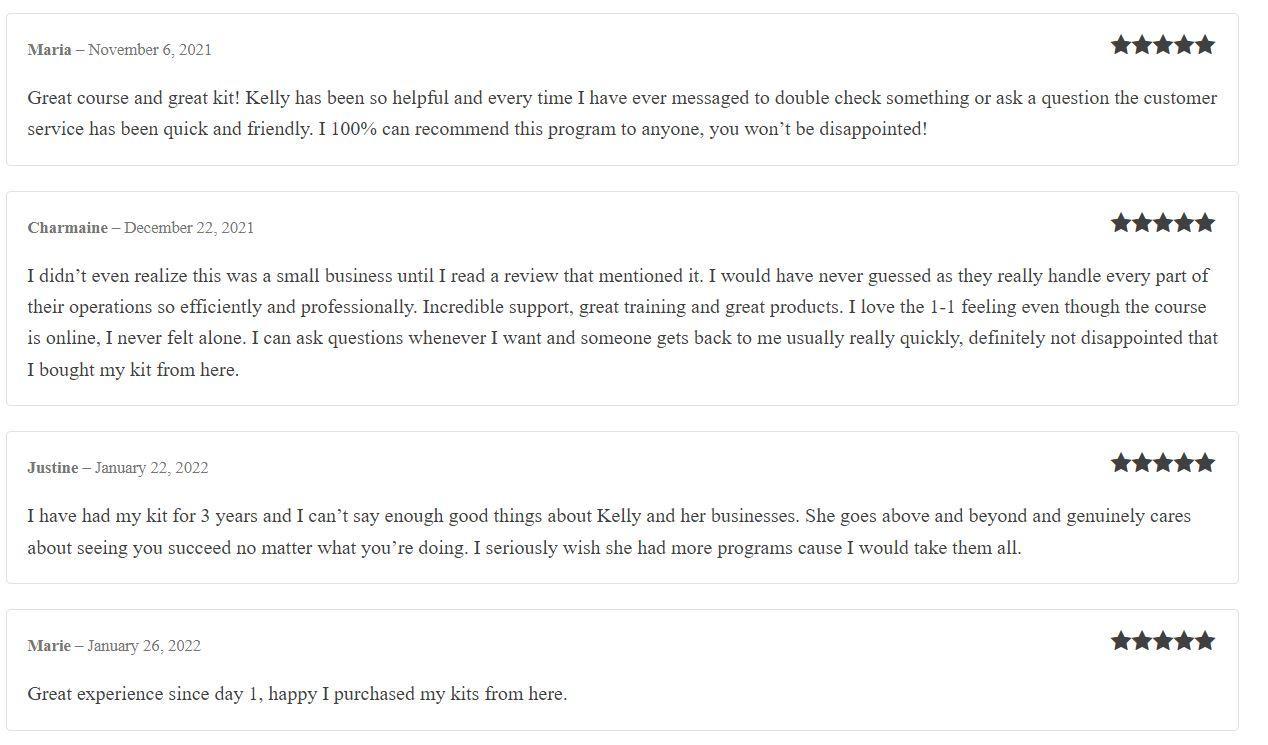 Our very own service reviews with a product and system backed by over 10 years of social proof and hundreds of beautiful happy smiles!
---
Absolutely worth it
My daughter had gone to see Kelly for teeth whitening and couldn't stop talking about it. I was hesitant going to the NW cause I live in such deep part of the South but it was absolutely worth it! Kelly went above and beyond and provided me with such a nice experience, even a blanket while I relaxed. It was so comfortable I fell asleep while getting my teeth whitened!
11/10!
Kelly is seriously the nicest person ever. I was so nervous because I have sensitive teeth and right from the second I stepped inside her door she was so friendly and made me so comfortable. This was my first time ever going to a home business for a beauty treatment and I am hooked. I am in love with my smile and can't stop smiling. I am so happy and the whole experience was a solid 11/10! Thank you so much Kelly for your positivity and personality, I will tell everyone to go to you!
I will be back
I was so worried about sensitivity cause I have alot of sensitivity and tbh if my teeth didn't look noticeably whiter I would have thought nothing was happening cause I didn't feel a thing! I will be back every few months for sure!
I was MUCH happier
I went in at the beginning of April after seeing an ad for teeth whitening with Kelly. I was super skeptical cause I had teeth whitening from another place in Calgary and it didn't work. While I did notice results with Kelly I was still kinda expecting more and I know thats fully on me but she was so understanding and went the extra mile for me when I came back to try a second round, this time they REALLY whitened and I was MUCH happier. I know for me its teeth structure and I was ok with that, also Kelly was genuine and so friendly and very informative from the get-go, it really made the whole experience so much better. Thank you Kelly, you're awesome!
OKAYYYY BUT WHAT?!
I am in love with my results!! Kelly is SOO nice and I am so happy with everything! I had ZERO sensitivity issue and I was LEGIT panicked but she came was amazing and explained everything! I cant stop telling everyone I know to go do it, it was so quick and chill! The fact that my sensitive teeth and gums didn't have an issue is award winning for me lol! Thanks Kelly!!!
I've been coming for years
So I've actually been coming to see Kelly for YEARS, I whiten my teeth every 6 months or so and I have never had an issue with sensitivity. I smoke, drink wine, coffee and always have lemon water so my habits are pretty "bad" but with the maintenance, I never have an issue! The touch ups are affordable and quick and I wouldnt dream of going anywhere else
I am a smoker
I am a smoker and never had whitening, I was skeptical but I am definitely impressed! I came back for another session the same week cause I wanted to try and take them even further and I am even more impressed. Thanks Kels.
Love my smile
Love my smile, and in one session!! thank you girl!
A very pleasant experience
I stopped after 2 – 15 minute sessions and should have gone for 3. My choice. A very pleasant experience and I will go again.
Great Job!!
4/4 Yes – Comments: Great Job!!
Perfect experience
4/4 Yes – Comments: An absolutely perfect experience with perfect results ! 10/10 will recommend
4/4!
4/4 Yes – Comments: None –
Absolutely amazing
Absolutely amazing service! In love with the results 🙂
Perfect!
4/4 Yes – Comments: None –
Did you have a great experience?
We love your feedback and testimonials – fill out the form to add your review to our growing list! Every month we pick someone from our new reviews to win a gift card. Seriously we love your reviews!